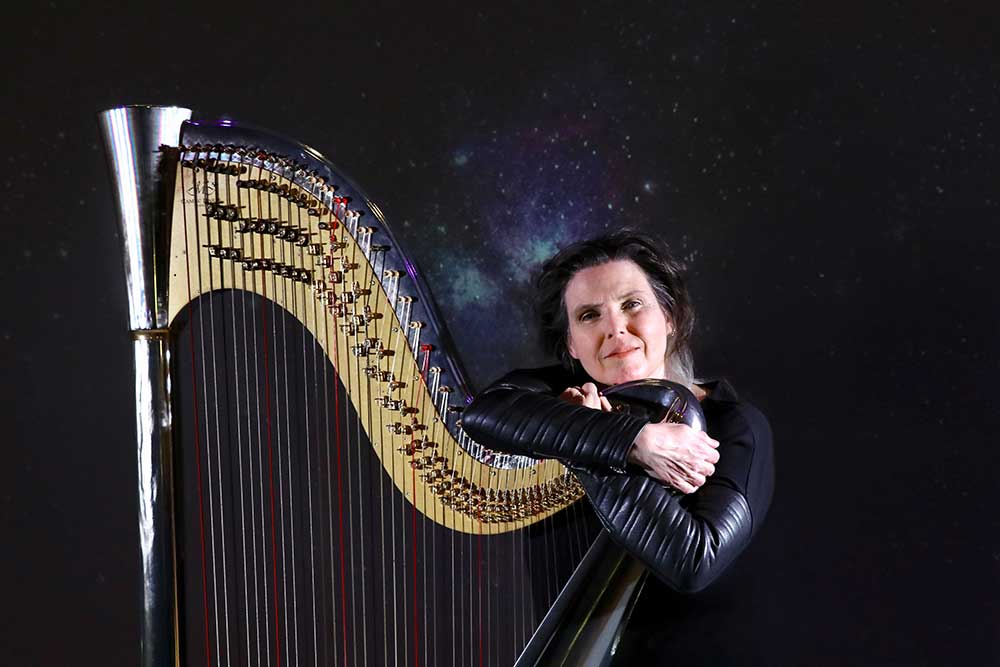 Caroline Lizotte
harpist and composer
A Quebec harpist and composer, Caroline Lizotte is named Composer of the Year at the Prix Opus 2023 and stands out internationally as one of the leading harp composers of her generation. Her works, often awarded prizes and imposed in competitions, are played and recorded by harpists around the world and are listed among the most influential of the late 20th and 21st centuries for the instrument. Caroline is dedicated to sharing her art through her creations, editions, concerts, mentoring and the recording of her entire works. She founded with her husband Étienne Ratthé RougébLeuë Productions and in 2022 produced her first album Lizotte Plays/Joue Lizotte, which collected her most known works written for harp from 1990 to the present.
Also in 2022, renowned Canadian artists recorded Lizotte's works on their albums: solo album by Heidi Krutzen; Transfiguration by Valérie Milot and Stéphane Tétreault, Atma Classique; La Harpe Fantastique by Judy Loman, Marquis Records.
Caroline Lizotte performed in July 2022 for the 14th World Harp Congress in Cardiff, UK. Her performance of Stellar Sonata, her latest work for electroacoustic harp, was highlighted and acclaimed by her peers. She has been a regular guest at the World Harp Congress, Dutch Harp Festival, World Harp Competition, American Harp Society, Ontario Harp Society, Harpenning, Société des Harpistes de Montréal and Women in Music Festival.
In 2023, two works by Lizotte, Suite Galactique and Odyssée, will again be imposed by the American Harp Society National Competition. Caroline will also be the featured artist of the American Harp Society Summer Institute in Los Angeles for a recital, a master class and a clinic with young composers. An associate composer of the Canadian Music Centre, Caroline Lizotte began composing at an early age and has an extensive catalogue of works, original transcriptions and arrangements for various ensembles. A frequent recipient of grants from the Canada Council for the Arts and the Conseil des arts et des lettres du Québec, several harpists have commissioned works from her, including Judy Loman, Jennifer Swartz, Valérie Milot, Heidi Krutzen, Marta Power, Elizabeth Jaxon and Jasmine Hogan. She is currently working on her next opus "Partita", supported by the Canada Council for the Art, commissioned by harpist Lori Gemmell and violinist Etsuko Kimura, which will be premiered in 2024.
In 1999, Caroline founded les éditions Calyane, a publishing company that produces her works with a personalized touch. She distributes her music in all countries of the Americas and Europe, New Zealand, Thailand, Taiwan and Japan. There are also points of sale in the most important harp manufacturers around the world such as Camac Harps France, Salvi Harps London and Lyon & Healy Harps USA. 
Among her works:
"Partita" opus 52 for violin and harp – in progress –
commissioned by Lori Gemmell and Etsuko Kimura with support from the Canada Council for the Arts 
"Stellar Sonata" opus 51 for electroacoustic harp (2019), supported by the Conseil des arts et des lettres du Québec and created at Espace Camac in Paris
"El Niño Mudo Prologue-La Barraca-Epilogue" opus 50 for voice, flute, viola and harp celtic, commissioned by Jasmine Hogan and the Peabody Institute of Music in Baltimore
"Stellae Saltantem" opus 49 for electric harp and acoustic harp (2014), commissioned by the Atlantic Harp Duo/Marta Power Luce and Elizabeth Jaxon
"Close for Couloir" opus 48 for harp and cello (2013), commissioned by the Duo Couloir/Heidi Krutzen and Ariel Barnes (supported by the Canada Council for the Arts)
"La Madone" opus 43 for solo harp (2009), commissioned by Valérie Milot, is among the required repertoire for the American Harp Society's Anne Adams Award in 2020
"Raga" opus 41 for two harps (2006), commissioned by Radio-Canada for harpists Judy Loman and Jennifer Swartz
"Concerto Techno" opus 40 for harp, live techno and orchestra (2003), commissioned by the Orchestre Symphonique de Trois-Rivières
"Suite Galactique" opus 39 for solo harp (2000 ) required piece for the American Harp Society's Anne Adams Award in 2016 and for the American Harp Society National Competition, 2023 Edition.
"Odyssée" opus 37 for solo harp (1990) won the fourth place worldwide in the USA International Harp Competition's Composition Contest in 2010. Required piece for the American Harp Society National Competition, 2023 Edition.
Caroline Lizotte is also a member and co-founder of the Four Seasons Harp Quartet with harpists Jennifer Swartz, Lori Gemmel and Caroline Léonardelli. Lizotte has written several original transcriptions for the quartet, which has toured Canadian chamber music festivals since its formation in 2004.
Having had a solid career as a soloist, chamber musician and orchestra musician for over thirty years, notably as a second harp with the Orchestre Symphonique de Montréal for 23 years, Caroline Lizotte is a professor and mentor for several career harpists. She is also called upon to give master classes and to present concerts of her works around the world, notably at the Glenn Gould School and University of Toronto, Eastman School of Music Rochester, Royal Northern Academy London, University of Arizona, Norvegian Music Academy Oslo, University of Ottawa, Roosevelt University Chicago and the Boston Conservatory of Music.
In Quebec, she has taught at Trois-Rivières and Montréal Conservatories of music, Schulich School McGill University and Cégep St-Laurent. She was on the National Youth Orchestra of Canada's faculty and the Orford Academy's Faculty for several years. Since 2010, she teaches harp at the Université de Montréal's Faculty of Music.
A native of Quebec City, she graduated from the Conservatoire de musique de Québec in 1992 and studied at the Eastman School of Music, Rochester, NY.